News & Events
Dr. Jerry G. Blaivas Receives 2015 Ferdinand C. Valentine Award
The Academy honored Jerry G. Blaivas, MD, FACS and William C. de Groat, MD with the 2015 Ferdinand C. Valentine Award for outstanding contributions to the field of urology during a reception on April 8, 2015. Nearly 200 members of the Academy Section on Urology, members of the New York Section of the American Urological Association (AUA), and residents from area programs joined in honoring Dr. Blaivas and Dr. de Groat at the event.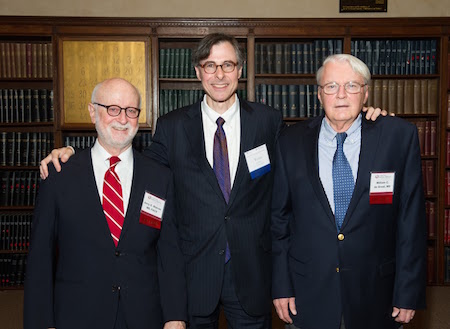 Dr. Jerry G. Blaivas, Dr. Jeffrey P. Weiss, Dr. William C. de Groat
"This year's Valentine Awards honor two giants in the field of bladder dysfunction and neurourology—a clinician and a basic scientist who have done legendary work in neurourology and incontinence matters," said Urology Section Chair Jeffrey P. Weiss, MD, FACS, Professor and Chair of the Department of Urology at SUNY Downstate College of Medicine.
"Dr. Blaivas is hands-down the most accomplished of clinicians in that area. He is also a father of urodynamics, which is a functional study of the urinary tract. Dr. de Groat has done a tremendous amount of basic science in the field of neurourology and the neural control of urination. He has made profoundly important contributions to the body of literature in neurourology and functional urology."
Following the award ceremony, each winner spoke on a topic of expertise: Dr. Blaivas' lecture was titled "Innovation, Serendipity and Falling Through the Cracks," and Dr. de Groat's lecture was titled "Neuromodulation: Mechanisms of Action in the Treatment of Overactive Bladder."
Dr. Blaivas is an internationally renowned urologist with over thirty-five years of clinical experience. He is Clinical Professor of Urology at Weill Cornell Medical College, Adjunct Professor at SUNY Downstate and Attending Surgeon at New York Presbyterian Hospital and Lenox Hill Hospital. Dr. Blaivas was one of the originators of urodynamics and pioneered many of the current surgical procedures to correct stress incontinence, urinary fistulas, urethral diverticulum, overactive bladder and neurogenic bladder. Dr. Blaivas is the Founder of the major scientific journal Neurourology & Urodynamics and was its Editor-in-Chief for 25 years. He is the author of over 400 peer reviewed scientific articles, book chapters, and reviews. His numerous awards include the Lifetime Achievement Award from the Society for Urodynamics and Female Urology.
About the Ferdinand C. Valentine Award
Dr. Ferdinand Valentine was elected a Fellow of The New York Academy of Medicine on January 2, 1896. He was a founder of the American Urological Association and its first secretary and third President. He was Professor of Genitourinary Diseases at the New York School of Clinical Medicine and made many contributions to the medical literature. His clinical appointments included Consulting Genitourinary Surgeon to the Manhattan State Hospital, the West Side German Dispensary and the Red Cross Hospital. The Valentine Medal and Lectureship was created by the Valentine family to celebrate his many contributions to medicine.
Renowned Urologist for the Plaintiffs Does Not Use Synthetic Mesh
This coverage is provided in conjunction with We Are Mesh Survivors, a coalition of synthetic vaginal mesh implant survivors united to demand justice for those who have suffered and to demand that existing products be pulled from the market until their safety can be demonstrated.
You could call the afternoon witness in the Huskey v. Ethicon trial a rock star among urologists.
Dr. Jerry Blaivas is an internationally renowned doctor who is known as the doctor of  "last resort" for men and women who've had unsuccessful urological procedures.
Women from around the globe seek his counsel at his New York City office and have been doing so since the late 70′s.  As well as seeing patients and doing surgery at least once a week, he trains other doctors at Weill Cornell Medical College and is the attending surgeon at New York Presbyterian Hospital  and Lenox Hill Hospital.
Dr. Blaivas was on the stand today in Day Four of a defective product trial that claims Johnson & Johnson's transvaginal tape (TVT-O) is a defective in its design, its manufacture, and does not adequately inform doctors, therefore patients, on the potential for risks and complications.
Blaivas appeared as the plaintiff wrapped up their trial in this Charleston, WV federal courthouse, the courthouse where 66,000 pelvic mesh trials have been consolidated.

The doctor was qualified as an expert by Fidelma Fitzpatrick (Motley Rice), one of three attorneys appearing on behalf of Jo Huskey.
According to device instructions, Mrs. Huskey was an appropriate candidate for a TVT-O despite her medical history. But after his exam of the patient, Dr. Blaivas determined  the TVT-O sling had eroded and that fact as well as the attempt to remove the mesh had left a thickened, hard mass of scar tissue on the left side of her vagina, causing her pelvic pain.
Dr Blaivas is not a fan of the polypropylene synthetic sling. Instead he performs the similar operation but uses a piece of muscle he harvests from the woman's own body called fascia. The operation takes about an hour and the woman may spend the night in the hospital.

At one time he did try the synthetics but he concluded "I didn't see a reason to do it and I stopped." He told the court he's among a group of doctors who have rejected polypropylene slings.


When seeing other patients who have been referred to him, his philosophy is – "First do no harm"  –  and that sometimes means he sacrifices removing all of the mesh because of the potential for further complications.

He told the court the TVT-O is particularly difficult to remove because it can make conditions worse as it passes through the muscles and nerves of the obturator space where the leg connects to the pelvis.  The doctor warned that is not a place that many pelvic surgeons or gynecologists truly understand.

MESH CRIPPLES
Scarring from removal and reaction to the mesh causes chronic pain. In an article shown to the jury, Dr. Blaivas and others have characterized injured women as "mesh cripples."  Under cross examination by Christy Jones, she revealed the article relates to mesh used for pelvic organ prolapse (POP). That mesh usually comes in kits and involves more mesh but Blaivas says the principle is the same and the mesh is the same.
Looking at a document on cure rates five years after a fascial sling, Dr. Blavias said the efficacy was 90 percent with no serious complications.
If Mrs. Huskey got the autologous sling could she be suffering today?  he was asked. "I don't believe she could."
He concluded with polypropylene mesh, "The risks do outweigh the benefits," said Blaivas.
PRIOR MEDICAL EVENTS
Fitzpatrick wanted to rule out the potential for pain from any one of Mrs. Huskey's previous conditions such as an ovarian cyst, diverticulitis or her back pain.  No said the doctor, "They're not related," adding that when he looked at her records he did not see that mass of scar tissue in 2010.
FAILURE TO INFORM
If a failure to inform is one element of a defective product, Fitzpatrick asked the doctor if there are complications if a doctor follows a manufacturer's instructions. Yes he said.  He's even seen patients from some of the world's most famous surgeons who have been referred to his office for "last resort" treatment, so expertise and experience don't seem to guarantee a good outcome.
Does the IFU or instruction for use warn adequately warn of the injuries Mrs. Huskey sustained?  "It does not! said Blaivas.

Do you believe the medical consent form is consistent with information in the IFU? Objection!


Did Mrs. Huskey consent with full knowledge  with what could happen to her? Objection!
RISKS VERSUS BENEFITS
Dr. Blaivas told the court the TVT-O and its implant and explant were the cause of Mrs. Huskeys abnormal pelvic pain, not the doctors who attended to her. Fitzpatrick continued:
"Is there any surgical intervention that can cure Mrs. Huskey?  No.  

Will she require pain management in the future? Yes she will.

Would you consider her problems transitory? No.

Can it be treated with an over the counter analgesic? No.
Until mesh came along, Dr. Blaivas said he had never seen anything like the mesh-related injuries he sees today.
CROSS EXAM
Under aggressive cross examination, Jones asked Dr. Blaivas how much he charged to be on the stand here today?  $15,000 he said.  And tomorrow?   No, he thought it would be less.
She asked if he had ever implanted a TVT-O. No, he admitted nor has he ever implanted an mid-urethral sling made by Ethicon.
What about all of the endorsements from the professional medical societies that say TVT and TVT-O slings used to treat stress urinary incontinence are the most common surgery and the  "Gold Standard"?  She went through each organization and repeated the claim that 99% of doctors who belong to the American Urogynecologic  Society (AUGS) use the synthetic slings.
"They do," said the doctor.
And what about two studies that show great success with TVT slings?
"That's hardly representative to me of anything. They're unreliable.  There are millions of these slings done and these are 63 women, I do not support it!"
Dr. Blaivis will continue on the stand Friday, the day the plaintiffs are expected to wrap-up their case.  By the middle of next week the defense should also conclude its case and a verdict is expected before the end of the week.

Johnson and Johnson has not yet received a favorable verdict in any of its three jury trials. Last February the judge in this case granted a motion to end the trial in favor of J&J, but the giant healthcare company lost one high profile case in New Jersey last year ($11.1 million Linda Gross) and a case in Dallas earlier this year (Batiste $1.1 million). The Batiste jury also found this SAME mesh, the TVT-O, to be defectively designed!


There are 22,000 similar cases filed in this same court before Judge Goodwin and almost 35,000 filed around the nation naming Johnson & Johnson.

June 12-14, 2014, Las Vegas
Dr Blaivas is a Faculty Member and Co-Director of FUUS. He is considered the one of the world experts in his medical field. Because of his expertise, he was a keynote speaker and participated or lead sessions in the following categories:
Evaluation (History and Physical) of a Patient with Lower UrinaryTract Symptoms
Urodynamics: When, Why and How
Case Studies ; How Best to Evaluate Patients with LUTS
Autologous Slings: When, Why and How
Avoiding and Managing Complications Including De Novo and Post-op Voiding Dysfunction
Retropubic, Transobturator and Single Incision Synthetic Slings –
Autologous Slings, Urethrolysis and Mesh Sling Complications
FEMALE UROLOGY AND UROGYNECOLOGY: Lower Urinary Tract Fistulas
Urethral Reconstruction
Lower Urinary Tract Reconstruction
Case Discussion: Surgical Management of Complications
Case Discussion: Surgical Management of Recurrences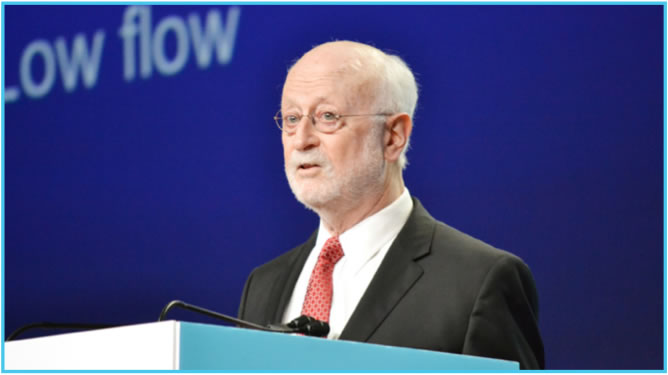 DAILY NEWS
While overactive bladder syndrome is well defined and has effective treatments, there is no consensus definition for underactive bladder and effective treatments have been elusive, according to the speakers from Monday's Critical Discussion on Under- active Bladder and Chronic Urinary Retention in Older Adults during the first plenary session.
"Underactive bladder is a new term coined to describe a clinical syndrome encompass- ing the signs and symptoms of detrusor underactivity. Detrusor underactivity is a urodynamic diagnosis, not a clinical diagnosis. It is characterized by a detrusor contraction of reduced strength and core duration that results in prolonged bladder emptying and/or incomplete bladder emptying," said critical discussant Jerry G. Blaivas, MD, clinical pro- fessor of Urology at Weill Medical College of Cornell University.
"In essence, underactive detrusor is just a weak bladder, meaning there's low pressure and low flow," Dr. Blaivas explained.
However, there is no consensus on what constitutes detrusor contraction of decreased duration and prolonged bladder emptying. "Most research is focused on defining detrusor strength or power, but acquisition of this data requires invasive urodynamic testing," noted Christopher Patrick Smith, associate professor of Urology at Baylor College of Medicine.
The prevalence of this syndrome increases with age and is highest in women older than 55 and in institutionalized patients. "Improving our diagnostic capability and developing new treatments can potentially reduce the potential complications of in- complete bladder emptying, such as bladder stones, incontinence and urinary tract infections," Dr. Smith said.
Studies in aging animal models suggest that alterations in bladder ascending pathways are an underlying etiology for incomplete bladder emptying. In these studies, aging rats voided less frequently, required higher pressure thresholds to induce a voiding contraction and were less responsive to bladder stimulants such as capsaicin.
The causes of underactive bladder include decreased contractility of the detrusor muscle and abnormal neural control.
Michael B. Chancellor, MD, professor of Urology and Director of Neuro-urology at Oakland University Beaumont School of Medicine, outlined several pertinent questions when diagnosing underactive bladder. "Does the patient lose afferent sensation? Does he not sense he has a full bladder?…"
Dr. Blaivas presented their latest follow up on their new staging system for urethral strictures.
Management of Urethral Strictures in Women: As Published in "The Journal of Urology" vol 188, 1788-17832
Urethroplasty – Urethal Strictures for Men:
Dr. Jerry Blaivas honored as one of the fathers of urogynecology
Dr. Blaivas honored as one of the fathers of urogynecology "Standing on the Shoulders of Giants" A Tribute to the FPMRS "Four" Fathers at black tie gala in San Diego, CA. Click here to view invitation.
Request an Appointment