Uro Center – Top Rated New York Urologists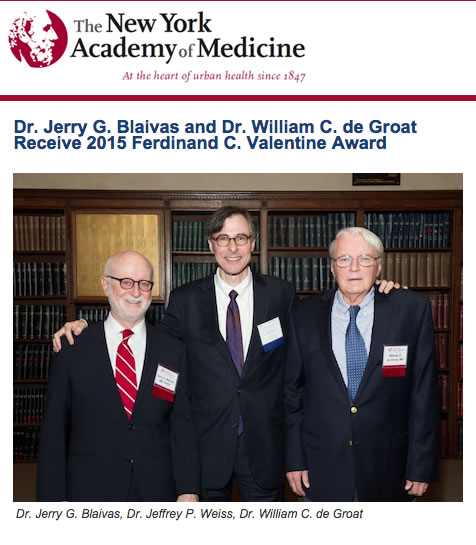 February 26,2015 Medical Breakthrough For Those Suffering From The Inability To Urinate Normally.
When you feel like you have to go and can't… the cause could be a Urethal Stricture; which is a narrowing of the lining of the urethra that inhibits the flow of urine from the bladder. This condition affects both men and women and negatively impacts their quality of life. To better understand what people go through with this condition you can view a video HERE.
Those suffering from a Urethal Stricture may have symptoms including:
• Difficulty starting urine flow • Painful urination • Urinary tract infection • Urinary retention • Incomplete emptying of bladder • Decreased urine stream • Dribbling of urine • Spraying or double streaming urine • Blood in the urine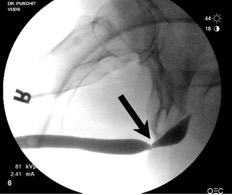 To demonstrate what a urethal stricture is, in this X-ray, figure 1, dye is injected into the urethra, which looks like a tube and appears dark gray. The stricture is the sharp narrowing in the tube where the arrow is located. This causes the restricted flow of urine.
One of the major problems facing patients with urethral stricture was the lack of a way to categorize strictures so doctors can share information and correctly evaluate the patient's current stage and progress. That is until now.
The Purohit-Blaivas staging system was developed by 2 prominent New York Urologists, Dr. Rajveer Purohit, and Dr. Jerry Blaivas. It categorizes strictures based on examination with a 16 French flexible cystoscope which is a narrow tubular instrument that is passed through the urethra to examine the interior of the urethra and the urinary bladder.
This is a 5 stage rating system: STAGE 0 represents the absence of any stricture; STAGE 1 describes strictures that allow easy passage of the cystoscope; STAGE 2 allows passage but requires gentle dilation with the cystoscope; STAGE 3 strictures are impassable, but the lumen <the space inside any tubular structure in the body> is visible; and STAGE 4 strictures are those with a completely obliterated lumen.
Currently, these expert Urologists, Dr. Purohit and Dr. Blaivas are working to refine the staging system so that it takes into account stricture location, number, and length.
"We were prompted to develop this urethral stricture staging system recognizing the lack of a common lexicon for describing anterior urethral strictures and our belief that strictures should be treated as a graded phenomenon for both patient care and research studies," said Dr. Purohit, clinical assistant professor of urology at Weill Medical College.
This cystoscopy-based system can be used almost universally by all urologists and will provide a framework for collecting data that will help determine appropriate follow-up for patients with strictures while also aiding general urologists in knowing which stricture patients should be referred to a reconstructive specialist.
"My advice to you is – Run don't walk to see Dr. Jerry Blaivas."
"The Patient care I received from the URO Center was absolutely the best you could want. My condition affected me both physically and emotionally… I was depressed, angry and hopeless. What a difference from then to now. I am optimistic, grateful and normal! My advice to you is – Run don't walk to see Dr. Jerry Blaivas. He is concerned, dedicated and a Brilliant Doctor!"
~ B.P.
Are you suffering from a medical condition that requires expert diagnosis and care? Perhaps you have been misdiagnosed or left wondering what is really wrong with you or a loved one?
If you need solutions for your urological problems, you've come to the right place!
Welcome to the URO Center of New York. Our internationally renowned urologists are here to provide you with world-class medical care for your urological needs, whether common or complex. Our philosophy is deeply rooted in the personalized approach to each patient using the latest medical knowledge and innovations in the field of urology.
In fact, we specialize in providing care to men and women with their most complex urological needs. We also offer second and third opinions to patients who have not been helped by a previous diagnosis and who require a highly individualized treatment plan.
Our board-certified urology experts possess decades of experience providing urology care to some of the most complex cases ever encountered, bringing academic and research-based modernization to the clinical forefront. Their research in developing new medical techniques has become the standard in patient care.
In recognition for the expert, innovative care we consistently provide for our patients, our physicians continue to be recognized with national and regional awards in the field of urology.
Dr. Jerry G. Blaivas, MD, FACS is a world-renowned urological expert, distinguished author, educator, and medical pioneer. He was one of the founders of urodynamics and established many of the current surgical procedures used to correct stress incontinence, urinary fistulas, urethral diverticulum, overactive bladder and neurogenic bladder.
He is also one of the few surgeons who routinely perform reconstructive surgery for prolapse and incontinence without the use of mesh. His success in this area has led him to publishing one of the largest series in the world on treatment of mesh complications.
Dr. Rajveer Purohit, MD is a prominent, board-certified urologist specializing in complex voiding problems such as incontinence and urinary obstruction, recurrent urethral strictures, minimally invasive urologic treatment for cancer, and sexual dysfunction.
Dr. Purohit's research and treatment methods in the field of urology have been published in medical journals. He remains one of the tri-state area's busiest reconstructive surgeons by offering definitive repair of urethral strictures, and radiation-induced urinary problems as well as complex urinary problems deemed untreatable by other urologists.
If you are tired of living in pain or discomfort and you need a solution to your problem – don't hesitate – just click here to schedule an appointment on-line or call the URO Center of New York today at 888-430-3380 to schedule a confidential consultation.
Uro Center of New York's Awards and Recognitions
New York Magazine

Best Doctors

1992-2015

Castle Connolly

Top Doctors

1992-2015

New York Metro

Area's Top Doctors

1992-2015

America's

Top Doctors

1992-2015