Welcome to Uro Center of New York
Welcome to Uro Center of New York, home of Jerry Blaivas MD, FACS. Dr. Blaivas is a world-renowned urological surgeon, distinguished author, educator, researcher and medical pioneer. He was one of the founders of urodynamics and pioneered many of the current surgical procedures used to correct stress incontinence, urinary fistulas, vaginal mesh complications, weak bladders, overactive bladder and neurogenic bladder.
He is also one of the few surgeons who routinely performs reconstructive surgery for prolapse and incontinence without the use of mesh, as well as surgery for mesh complications. Dr. Blaivas possesses decades of experience providing urology care to some of the most complex cases ever encountered, bringing academic and research-based modernization to the clinical forefront. His research in developing new medical techniques has become the standard in patient care.
Are you suffering from a medical condition that requires expert diagnosis and care? Perhaps you have been misdiagnosed or left wondering what is really wrong with you or a loved one? We offer second and third opinions to patients who have not been helped by a previous diagnosis and who require a highly individualized treatment plan.
Book an appointment online or call Dr. Blaivas today at (646) 306-3819 to schedule a confidential consultation.
Other Areas of Expertise: BPH, nocturia, urinary incontinence in Men & Women, complications of benign prostate and prostate cancer surgery, complications of pelvic radiation, urethral diverticulum.
Insurance Information
Dr. Blaivas does not participate with private insurance plans. He is considered an "Out of Network" physician, which means that payment in full is expected at the time of the visit and you will be reimbursed directly according to your insurance plan. As a courtesy, we offer to complete and mail claims on your behalf and assist you in obtaining timely reimbursement. In addition, we offer custom payment plans.
Dr. Blaivas In The News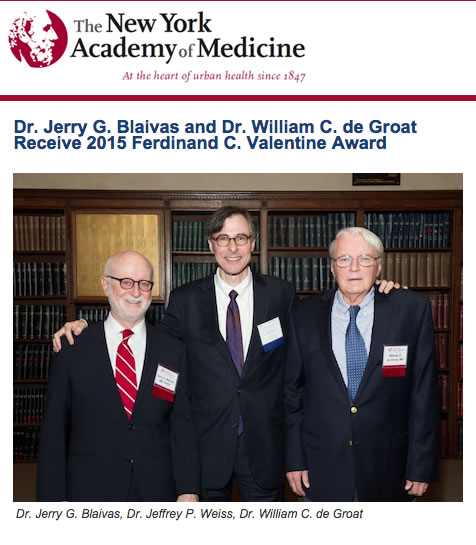 The New York Academy Presents Dr. Jerry Blaivas the 2015 Ferdinand C. Valentine Award For His Outstanding Contributions To The Field of Urology